PINE GAP KENNELS
We have Miniature Schnauzers!
WELCOME TO PINE GAP KENNELS!!
My name is Michelle Clark. My mother, Melanie Clark, has bred dogs for over 25 years! I have had the pleasure of growing up in a home where love, dog breath, and puppy kisses were the norm! After witnessing firsthand the joy that her pups have brought to our family and their new parents, I decided to work more closely with her and the doggies. Afterall, HOW COULD YOU NOT?! During the last few years working for Gap Kennels, I have had the opportunity to gain the experience and knowledge needed to branch out on my own.
Click on "Available" pages to for available pups!
We are home-based and readily available to provide our pups with all the care and attention they deserve!
Located in Sylvania, Georgia, all of our puppies are CKC registered, vet-checked, and health guaranteed! In addition to papers, all of our pups are microchipped and will receive their first shots and dewormings!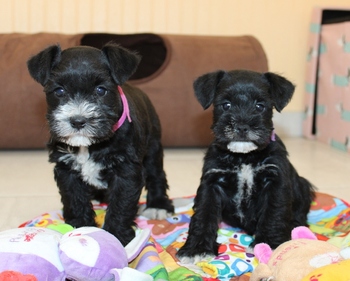 Winter's Pink and Purple girl having a blast during playtime!
Each of our precious babies get individual love, care, and attention on a daily basis! Our puppies are well-socialized and love playtime with each other and us!
About Miniature Schnauzers
Miniature Schnauzers are an extremely intelligent, extroverted, and affectionate breed. They are full of personality and will be a wonderful addition to your family!! Mini Schnauzers range from 11-20 pounds full-grown and have an average of 11-12 year lifespan. This purebred is one of my favorites and will no doubt easily become yours as well!!
Adopting a puppy
We pride ourselves in providing each puppy with extensive attention, care, and support. It is our goal to provide our pups with a stable, loving environment where they can not only lead happy lives, but also flourish in their new forever home. Puppies require lots of attention and finding a suitable and loving home for them is our primary concern!!
HEALTHY AND HAPPY is our priority for each puppy from birth to adoption!
If you're interested in adding one of our adorable babies to your family, please contact us!
We are happy to answer any questions and provide support during the adoption process! Feel free to contact me using the email link provided below. Emails are preferred, however, you may also contact us via phone call/text at (702) 218-5959.